Chico Chakravorty – Founder of Doing Diversity Differently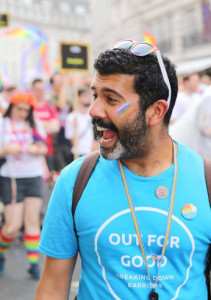 About me
I grew up in Maidenhead, Berkshire and I went to Reading School (an ex grammar school). My degree is in music (from Cardiff University) and I've recently completed an MBA at Durham University. Home is now Berkshire again, after living in London for many years.
Favourite book: I can't choose one! The Kite Runner by Khaled Hosseini; A Fine Balance by Rohinton Mistry and Tales of the City by Armistead Maupin
First job: When I was 15, I worked in the kitchens of Pierre Victoire. I started as a kitchen porter but they soon realised I could do more and I ended up as the dessert chef!
What do you do and where do you work?
I'm a diversity and inclusion leader right now; I have my own business helping organisations do diversity differently. I work all over the country with clients in different sectors to help them be more effective in their employee engagement and diversity, inclusion and belonging initiatives.
What motivates you in your work?
When I was at school I felt quite different because of the realisation of my sexual orientation; I didn't quite fit in and at that time I took refuge in music – I found a youth orchestra and felt it was an environment I could thrive in. Now what motivates me at work is seeing people being able to thrive and flourish for who they really are, and helping them see the amazing things they can bring to the table.
What does success look like to you?
Happiness and contentment, created by recognition and supportive environments.
How has what you do changed as you have moved up the ladder?
The sectors and functions I've worked in could be seen from the outside as completely disparate. My first 6 years was in music; then I went to Bupa (where I knew nothing about insurance, law or the health industry) and stayed for 8 years, then an HIV/AIDS charity, then a charity for kids with neurodiversity, then helping companies recruit diverse talent and now I work in diversity and inclusion. Everything has changed all the time! But the common thread has been: how do I give people access to things they previously didn't have.
Who has significantly influenced or made a difference to your career and how?
My mother. She worked in social services for most of her career and now when we talk I realise I've inherited her altruism and values. She fought in the 1980s for BAME networks in social services in Berkshire, and I'm championing the same things now.
Who or what is your biggest inspiration?
I'm inspired by seeing good things happening in the world. We're living in some quite negative times, and seeing people rise against that and do what they can to make things better is wonderful. A good example is the New Zealand Prime Minister, Jacinda Ardern, and how she responded last year after the mosque shootings in Christchurch.
What was the biggest turning point of your career?
Taking a role at Bupa and moving into so many unknowns. The knowledge gap was the biggest enabler to me to realise what I'm capable of. I know now that there might be 1000 ways to achieve something, and I will find a way, even if it's not the quickest way.
If you had to start your career again, what would you do differently?
Interesting question! I've loved my career path – it's been diverse and varied and I've learnt amazing skills and met inspirational people. I might change, though, how the rest of the world looks at that level of difference on the CV and sees it in a positive way. For most employers it's still all about linear careers and I think that view means we hire on the wrong metrics.
What one tip or one piece of advice would you give BAME people making their way up the career ladder today?
Find out what makes you special in a positive way and amplify that as much as possible.
Do you mentor/sponsor BAME professionals making their way up the career ladder?
Yes. I have two people I regularly mentor and I do a lot of ad hoc mentoring too. Not just BAME people! I've also had mentors and sponsors myself – they gave me a different perspective and an ability to see how to use my skillset to address the needs of the organisation.
What is your next goal?
To help as many organisations as I can to create great environments where employees have a true sense of belonging and are therefore happy in their work life.
How would you describe yourself in three words?
Empathetic, creative, uplifting.
It's seeing people being able to thrive and flourish for who they really are, and helping them see the amazing things they can  bring to the table.